Movie Articles
---
A Career in Film? Go For It!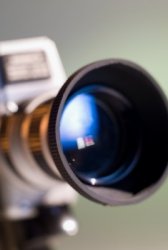 Having a film career is not such an impossible dream these days. In fact, there are many schools that carry courses in film. In these schools you will learn the basics of filmmaking. You will learn the many aspects: the creative process as well as the technical know-how, and how to blend these two into a cohesive and successful movie. Auxiliary behind-the-scenes skills such as management and accounting are learned, sometimes informally, to a lesser degree: as these are needed when one embarks in a film production project.
Furthermore, filmmaking has just gotten a wider playing field these days. With the advent of the digital age, much has been democratised. A cheaper, more affordable process has made opportunities available to even the young but creative types. Ideas, skills, tips and tricks are to be had for free. The information age is friendly to the fledgling filmmaker trying to embark on his chosen career.
It is not surprising why someone would want to venture into this field. The medium has worldwide appeal. Even before the digital age, movies have been shown successfully to a large international audience. All countries everywhere have their own local movie production outfits. The process is sometimes tedious, always tiring in its need for detailed management of all aspects of the production and its need of in depth proficiency in a variety of skill, but then surprisingly satisfying as one finally views the finished product on the big screen, or even on the smaller television sets in made-for-TV movies.
With the entry into the film world of both independent filmmaking and world cinema, the process just became easier and a successful film career has become more than just a dream for more and more people. The advent of digital equipment and the video camera has a lot to do with this. The result of this phenomenon is that new tricks will have to be learned as well, that will help filmmakers handle the new medium. Nevertheless, all of the old school abilities are still very much needed for this demanding career.
All of the skills needed in making a movie, from the start of a project through its completion, is listed as follows: conceptualising an idea, scriptwriting or making a story suitable for film, movie casting or looking for the right actors to play certain characters in the story, pitching your project to distributors and possible producers, building props and sets for the scenes, looking for the right location, then shooting a movie, camera work, cinematography, sound recording, lighting, directing, acting, editing, musical scoring, and then finding an audience for your film.
All these are necessary tasks for the making of a movie. A person who wants to embark on a film career does not necessarily have to do all these. The beauty of this medium is the spirit of collaboration that is present in the making of each film. However, if one wants to do well in this chosen path, a rudimentary knowledge of each of the processes mentioned would be a big help.
Written by: Dave Basulto at Film School On Demand