Movie Articles
---
80′s Movies Belong To John Hughes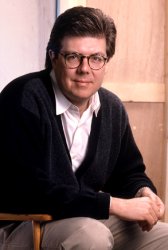 If you call yourself a movie fan, and certainly if you're in your thirties, then it won't have escaped your attention that film director John Hughes died on August 6th 2009. Everyone has seen at least one of his movies, and you never hear bad things spoken about them. It seems as though everyone loves a John Hughes movie.
You can't talk about the movies of the eighties without his name cropping up; To many he was THE movie director of that era. Watch any of his best – 'The Breakfast Club', 'Ferris Bueller's Day Off' and 'Planes, Trains & Automobiles' – and you will instantly see that they are the quintessential eighties movies. He launched the careers and many young actors such as Andrew McCarthy, Anthony Michael Hall, Ally Sheedy and Judd Nelson, who collectively became known as the Brat Pack.
Hughes was working as an ad copywriter in Chicago when he first got his break selling jokes to well-established comedians such as Joan Rivers and Rodney Dangerfield. He began writing a screenplay based on his own childhood family trips called 'Vacation '58'. When he began working for the National Lampoon, this screenplay was developed into the 1983 hit film 'National Lampoon's Vacation', starring Chevy Chase.
His first directorial job was the 1984 film 'Sixteen Candles', establishing him as the signature teen filmmaker of that decade, and making a star of Molly Ringwald. The 'John Hughes Movie' became shorthand for a sometimes agonizing but ultimately upbeat look at the teenage years.
It was 1985's hit movie 'The Breakfast Club' that really turned him into the director that everybody still loves to this day, and created the blueprint for what a John Hughes movie was all about. His high school movies often centred on the girl who doesn't feel pretty enough, the guy who feels like an idiot, the arrogant bullies who pick on them, and the awkward moments they endure before it all works out in the end.
Then in 1986 he directed 'Ferris Bueller's Day Off', which many consider his best movie, the most discussed and quoted, and the one that instantly flashes across the mind when they think of John Hughes.
Hughes, a Michigan native, often set his movies in the Chicago area, and particularly in the fictional Shermer, Illinois. They often featured lavish and smart use of music. He managed to keep them from being simply throwbacks to some romanticized earlier age by effective use of realistic teen dialogue; His strength was writing and directing teens.
It was for this reason that he wrote and directed 'Planes, Trains & Automobiles' in 1987, in an effort to throw off being pigeonholed as just a maker of teen comedies. In 1990 he wrote and produced 'Home Alone', his most successful movie to date, and a huge departure for him in that he didn't direct it. It was also from this point on that he became a different John Hughes that everybody loved.
After this, he gradually retreated from the public eye, becoming very reclusive in later years. He only ever stepped behind the camera on more time for 1991's 'Curly Sue', his only movie that barely anyone has ever seen. His last project that he worked on was an independent film 'Reach the Rock' in 1999.
John Hughes was visiting his family in New York when he suffered a heart attack while walking in the park. He was pronounced dead shortly after. A huge influence on many filmmakers and movie fans alike, he will be sadly missed. The world has lost one of the greatest movie directors of our time.