Movie Articles
---
Finished with LOST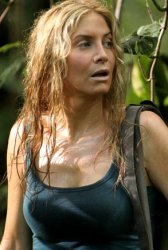 Well it was always going to happen, I shouldn't be surprised. After my last 'discussion' I was willing to admit I MIGHT have been a little over the top about it. I'd followed the series since day one and realised I shouldn't give up on LOST so easily so I went back, humility cap in hand, sat down to continue to watch the current series and it hit me – "It felt wrong."
I was always a firm watcher of LOST. Every 'LOST' I would sit down when it was on and watch avidly at the escapades of the survivors, moaning at the constant breaks interrupting my viewing and the, way too loud, crescendo of violins at the end of every episode. But, as the weeks went on I began to record LOST and watch it at a later time. As the serious continued the time I got around to watching the recording began to get later and later until I was watching it at least a week later.
It dawned on me then how apathetic I had become towards the series, its plotlines, its idiosyncrasies, and in some cases I was beginning to hate the characters – Kate and her Madonna worshiping, steroid induced muscles; Jack and his annoyingly one dimensional presence whenever he is on screen; Juliette and her lack of ANY CHARACTER WHATSOEVER (don't believe me? Watch any major moment in the current series; she never loses her 'moronic plank' expression).
I can't say its all bad – although in some cases the writing most definitely is – Ben and Locke are always a good bet for an above-mediocre episode and I always seem to have a good chuckle whenever Jeff Fahey is onscreen, although I could put that down the "The Lawnmower Man" effect, but I've just LOST the love and I've moved on. Like a husband who realises his marriage is getting boring and has looked to pastures new for some excitement ("Oh Dexter, how I love you.") I've asked for a divorce. I can't take the vapid characters, the over the top fantasy, the relentless "We are going to try and fuck with your head so many times you won't know which era you live in just for the fun of it", I just can't.
Believe me, I tried to give it all the love I possible could but I no longer can. Every time I watch it now I pray the Island teleports off, makes a slight miscalculation with its trajectory and ends up smack bang in the middle of a black hole. I would gladly pay a lot of money to see the sight of Jack whining his head off as his spine gets sucked through his arsehole into another dimension.
I'll upset people with this, I know I will, but I can't help it I've tried to stay interested, I really have. I've tried to get into the whole Miles being the son of Pierre Chang thing; I've tried to stop my sides from splitting at the flashbacks of Ben when he's twenty-something and with a parting; heck, I even had a smile on my face when Hurley was writing the Star Wars script, but ultimately it's all just me trying to paper over some ever widening cracks.
So it's with a heavy duty machine gun in my hands, a nuclear missile pointed straight at the centre of the Island, and, with a paid assassin on the look-out for Alan Dale that I wipe a tear from my eye and bid a fond farewell to my love affair with LOST. It was fun while it lasted.
Written by: Arron Kasady
Buy LOST Complete Seasons DVD Boxsets Right Here -


Lost: The Complete Fifth Season DVD

Lost: The Complete Fourth Season DVD