Movie Articles
---
'V' – The Visitors Are Back!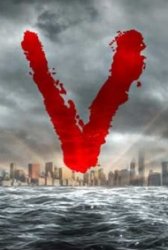 Those alien lizards are planning to invade our World all over again this year. One of the bigger announcements at this year's Comic-Con International was that 'V' will finally make it back onto our TV screens. Revealing ABC's preview trailer for the show, along with interviews and snippets, this is the re-make/imagining that sci-fi fans have been waiting for. After many rumours over the years of a return of the most expensive sci-fi TV show of it's time, 'V' has finally got beyond just an idea to becoming a reality.
For those under the age of 30, 'V' was an early eighties sci-fi mini-series based upon an alien humanoid race that come to Earth seeking our help. Their home planet is dying and they desperately need some of the water that our planet has in abundance. In return, they offer us their advanced technological and health secrets. It seemed like a deal too good to be true. It was of course. Right up until the point they are revealed to be lizards, who actually intend to take the people back with them as food along with all the water. Even when the resistance exposes them, they still manage fool the World into believing that they're the good guys.
The idea was all Kenneth Johnson's, re-worked from a Nazi Germany based story into alien lizards trying to take over the World. Johnson himself bailed after the original mini-series aired, leaving the follow up mini-series and subsequent TV series to become a complete train wreck. Since it ended, (with no real ending at all as it was simply cancelled), Johnson has tried to bring back his original vision with a follow-up many times over the years. Surprisingly he has given his full blessing to the new show's creators, even as he has his own feature film version in the works.
'V' is getting the re-imagined Battlestar Galactica treatment that it deserves. Sticking to the same premise, this version is led by Homeland Security agent Erica Evans, played by LOST's Elizabeth Mitchell, (I hope this isn't a sign that she's left that show for good after last season's climax). Her character is in the same vein as Mike Donovan in the original, while Morena Baccarin plays Anna, (read Diana), and Scott Wolf fills in the TV reporter's point of view of the proceedings.
The preview trailer is certainly promising, indicating that some storylines could remain intact, such as the cross-breeding between human and alien, and Erica's accidental discovery of the lizard's true identity while snooping around the mothership and subsequent resistance leadership. An interesting angle is the comparison between religious belief and the aliens themselves, particularly in times when our need of salvation is at it's highest; A shift from the original's Nazi comparisons to a modern World in crisis needing help from an alien species. Lets hope there's not going to be too much preaching here.
'V' comes to our screens in November 2009 with the pilot episode, and will continue for 13 episodes through to 2010. With quarter of a century in the making and a successful mini-series on which it is based, along with a re-booting and updating of special effects, this is one TV series that has no excuses if it fails to deliver. Let this be the salvation of the series we have waited so long for, and not just a brief visitor.